I just got back in from 5 days of fishing. Thanks to Capt hoop for letting me borrow his boat while I was getting some work done to mine. We started out with Mark and his gang on thursday. they wanted tuna at first but the first spot I hit had dirty water and only bonito and the guys were getting restless and told me they wanted some action. So off to the rigs we went. First spot only had cudas hitting our hardtails but the next spot was the g spot for ajs. They were sitting about 40 feet down and hitting every hardtail we sent down. We finished off our limit there in about 40 minutes before we started bouncing around for snapper. Finally found our snapper spot and started wearing out 12-15 pound snappers. We were using tuna bellies for bait and also added in two scamps and one gag before we called it a day.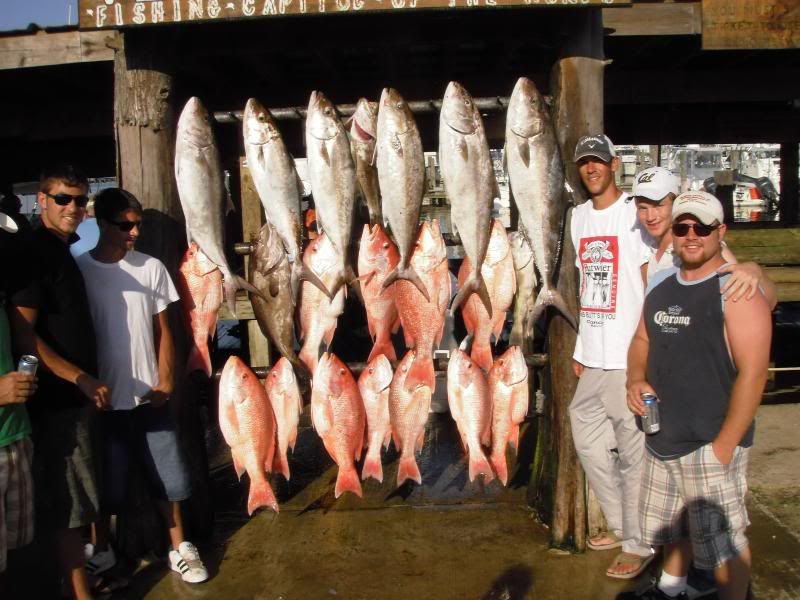 On day two I had some good friends on the boat. It was also planned to be a tuna trip but we stopped on a weedline to catch some bait. While doing that Joey threw out a rattletrap on an oti tuna sniper and sniped a 44 pound dolphin into the boat. Picked up another dolphin and then Stuart was blindcasting a popper on an oti jigging rod and somehow managed to coax a 48 pound wahoo into biting it. That was a heck of a good fight. We heard about the boat show at the nearest rig so I stayed on that line and just picked away at the dolphins all morning. I dont know how many we caught but it was a bunch.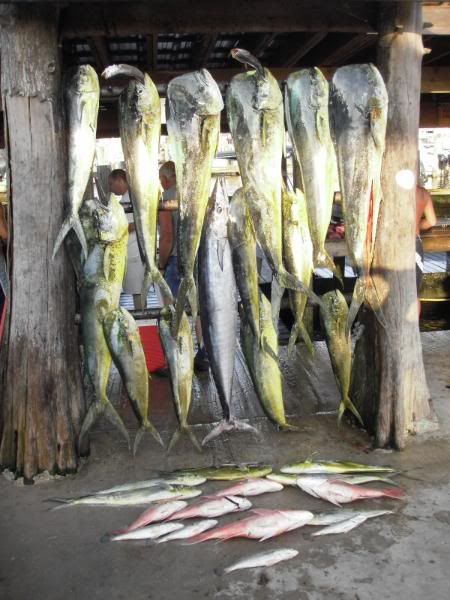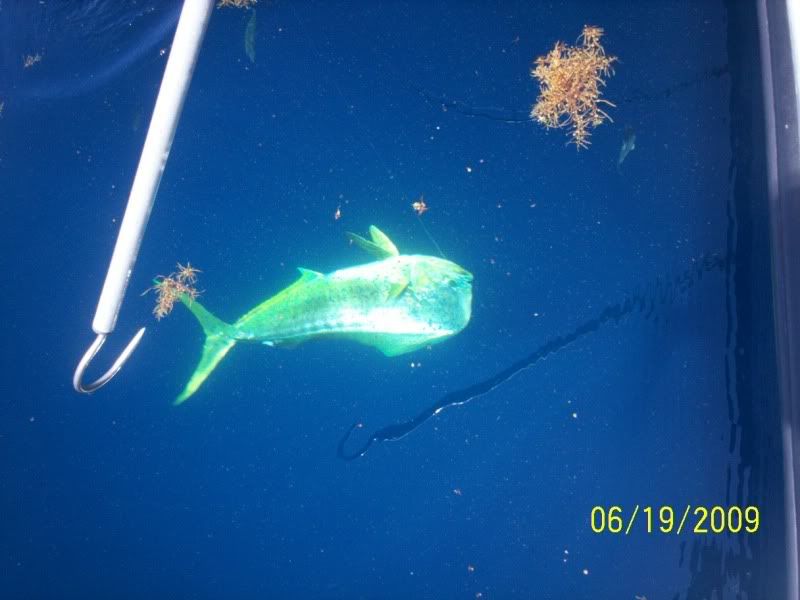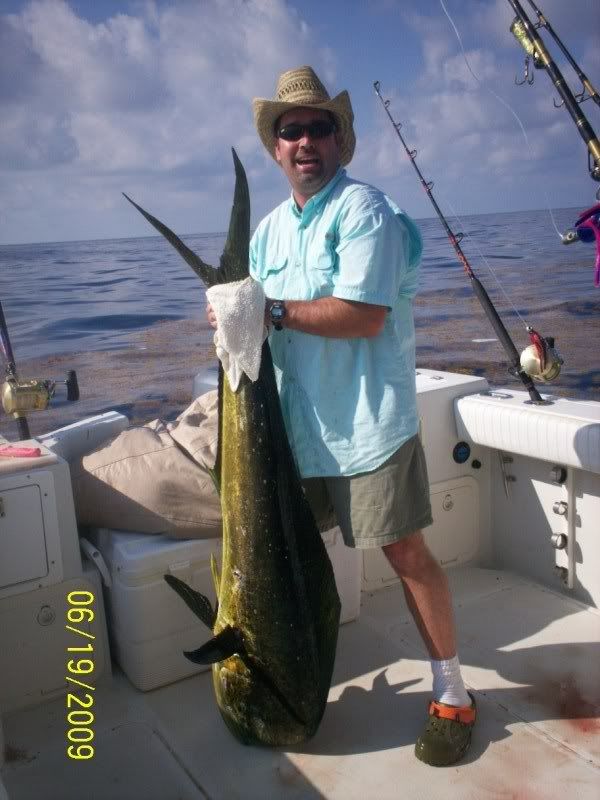 On day three I had a grandfather, his son, and his young sons so I decided dolphin was going to be the best bet. It took a while to find the right section of weeds but when we did it was productive. The two kids acted as spotters for me and their dad to sightcast too. We picked up three real nice bulls plus a bunch of solid keeper dolphin before we ended up with a limit of red snappas.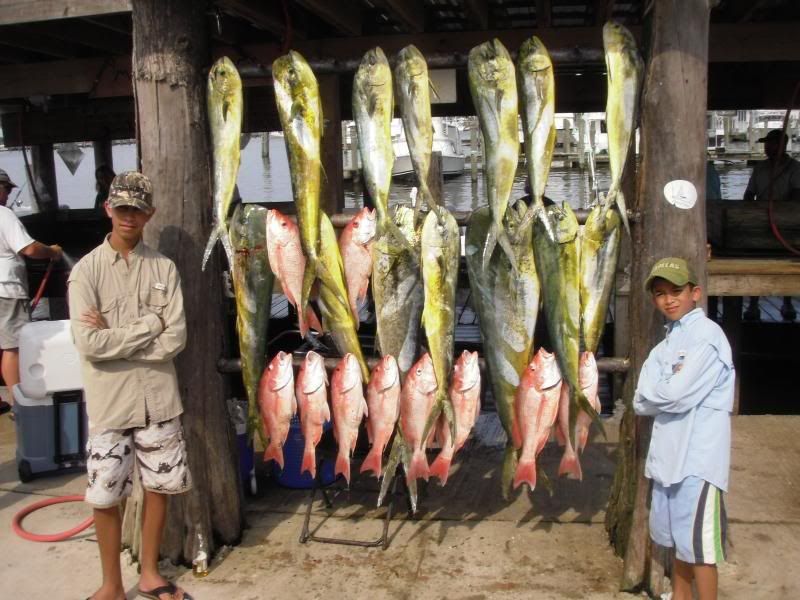 On sunday it finally slowed down enough to take some pressure off of the tuna and let me get to them. I was actually the first boat to a rig in bluewater instead of the 10th. First drift was a 40 pounder in the boat and after that it went uphill. Using chunks of whatever bait we could get we went 6-7 chumming with 60 pound frenzy flouro and 7/0 circle hooks. Colby also hooked a big fish on a popper which pretty much spooled him before it got tangled up in the rig and popped off. We left the rig around 1 with 6 yf in the box and headed north for a limit of snapper.
One of the tuna was somehow hooked in the tail with a circle hook.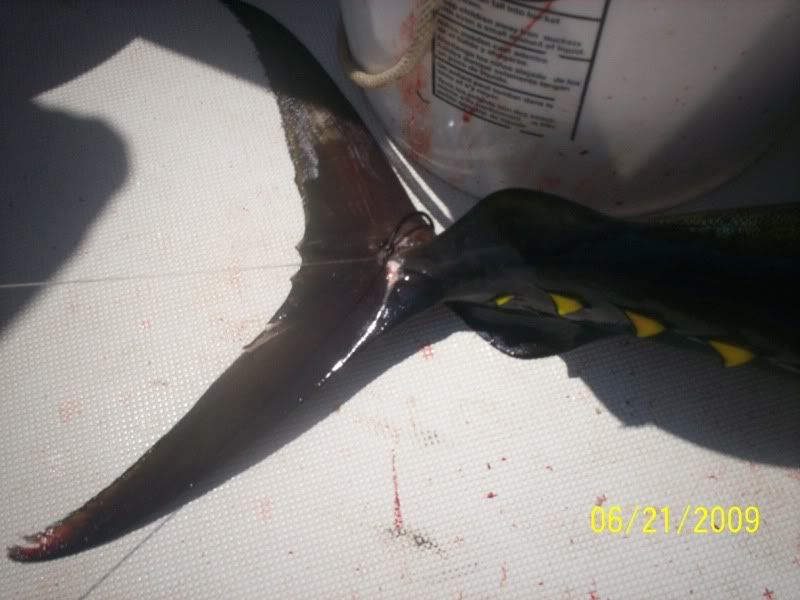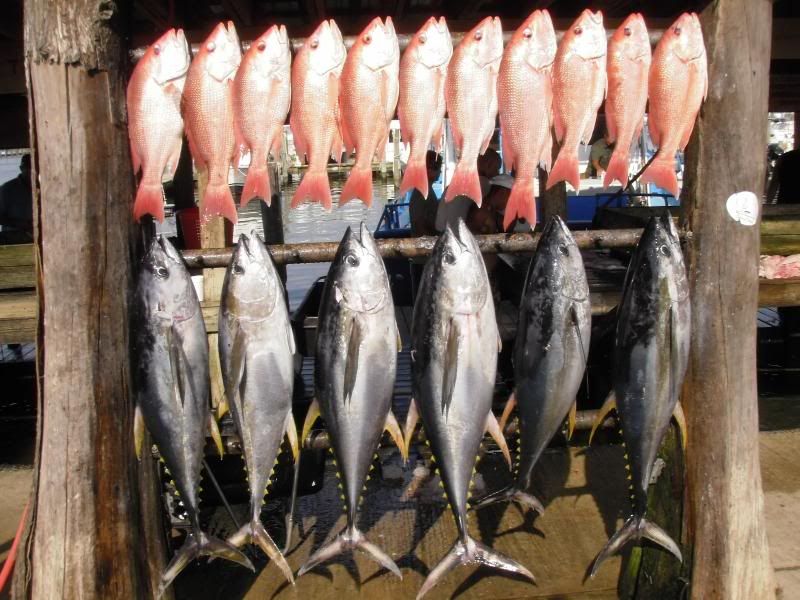 On day two it was rough in the morning so I took Colby and gang bottom fishing. The ajs were thick as ever and we put 6 good ones in the box in short order. The current was super bad but we found a rig that was loaded with quality snapper and filled up our limit quickly.