Offshore Fourchon
---
I am just returning from fishing six out of the last 7 days. I only got to get out where the fish were three of the times, those three times I caught fish. Trhe other three days people got sick and said they couldnt go any farther. The kicker was it was 2-3 footers or better every day I fished. Gotta hate it when people get sick in calm waters. The days we couldnt go where we needed to we caught kings and reds.
Now to the days we went where we needed to. On saturday I had Marty Griffith and we headed to the lump where we caught one wahoo on a spinning rod casting a rapala. I finally got that wahoo on the cast that I have been looking for.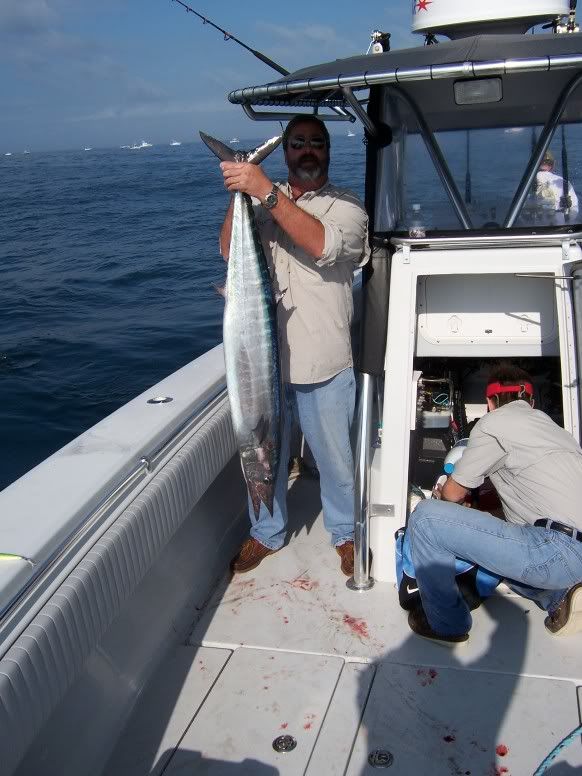 We caught a couple blacks and said that was it here so we rolled south. I hadnt picked up any livies on the way and that hurt us a little. Got out to the far floaters and started trolling and first pass was a double. The big one got off but we got the 30 pounder in the boat. Good start. We were marking a ton of good fish but we kept catching 20 inch yellowfin. In the next three hours we had 4 good fish hooked up trolling and every one of them managed to release themselves somehow. Right at the end we put a double of 20 pounders in the boat and we were trying to decide whether to stay the night or not when we saw the cold front approaching out of the north and it was in our best interests to go home. That was a real fun 86 mile ride into a cold front. Got back in with no major difficulties went to bed and cleaned the fish in the morning.
On monday I did a little recon mission and found the bait with Allen Kinsel and friends. PIcked up 2 dozen goggles eyes pretty quickly and rolled back out to the floaters. The fish werent marking as thick that day and I was wondering where they were when the first double went off. We missed one and caught one 25 pound yellowfin. Well we had some blood in the boat. Put the baits out again and started slow trolling and about 30 minutes later one of the baits went off and you could tell this was a good fish. My deckhand had casted a popper right before the fish hit the livie and handed me the rod about 10 seconds after he handed me that rod it got nailed just sitting there. About ripped my arm off cause I wasnt expecting a sitting popper to get nailed. we fought those fish about 30 minutes and landed both of them. Solid 70-80 pound fish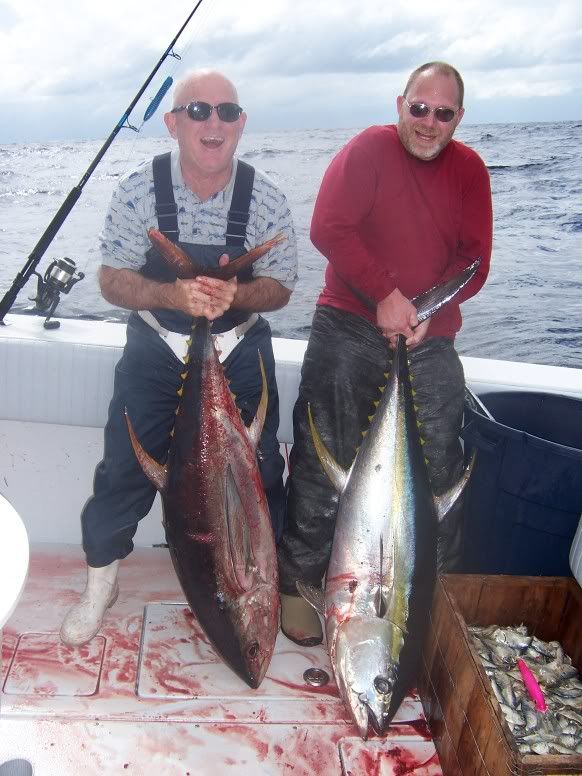 Set the baits out once more and about 30-40 minutes later again they both went off. This was right after I had one blow up on a popper. We harnessed into both of these fish and after a 20-30 minute fight we put two more 70+ fish in the boat. We had to head in after this because of a little cutting incident but all was well and we had five yellows on the dock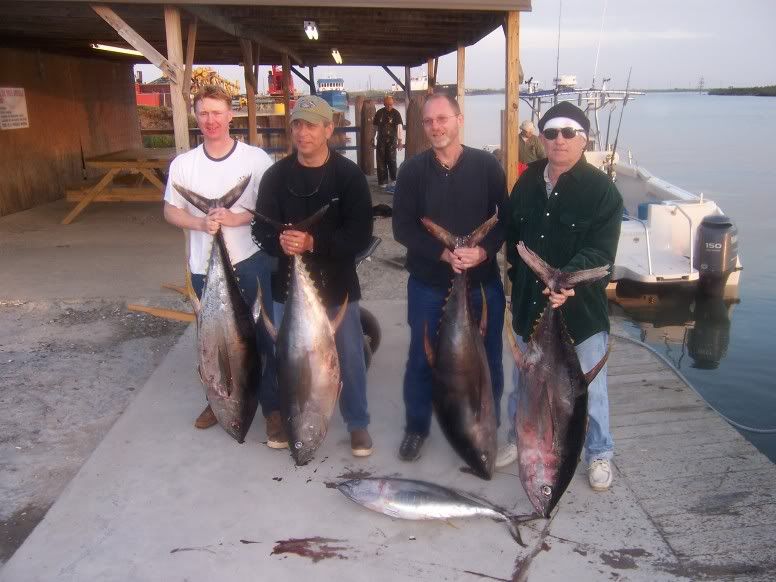 The next two trips I couldnt get back out because of sea sick clients. I had thursday good to go though. I made my bait and rolled south to a closer floater because of the forecast front coming through. We fished around 2 hours and put two 30 pound yellows in the boat and 4 fat blackfin. The blacks came on poppers and the yellows bit on live bait.
On a couple of these days I had people using the new butterfly jigs and we were whacking small tuna with them.
Here are some whale pics from saturdya.