I have been in Venice since last thursday running two overnighters and a day trip.
The first one was with Chris Ferstle and friends. We left venice a little late around 430 so we missed the evening bite. That definitly cost us a good bit as we didnt get to the rigs until dark. Started off at one floater with no hits, then we moved to the east and at least lost a fish. Still nothing in the box though until we got to the thunderhorse where we boated a blackfin. At least we got some chum. Tried to move into position to fish for yellowfin when we got the boot from the rig. Starting to feel a little frustrating. So we leave and head 25 miles more to the east and get there around 1 am. The 2nd drift we made there we put a yellowfin in the box so things were looking way up from the first half of the night. There were very few fish on top. It was never the fast and the furious but we picked up a fish here and there and by 530 in the morning we had eight yellowfin to 85 pounds in the box. I sat it out for the morning bite expecting to hit a couple and only saw 2 fish come up. We started working our way in to the shore and low and behold at a rig 12 miles from the pass I run into jumping yellowfins. Put on some tuna hunter poppers and had a quick double on yellows. That definitly was the icing on the cake as there aint nothing better then having yellowfin tuna blow up on surface poppers. It also increased our total to 10 yellowfin for the night.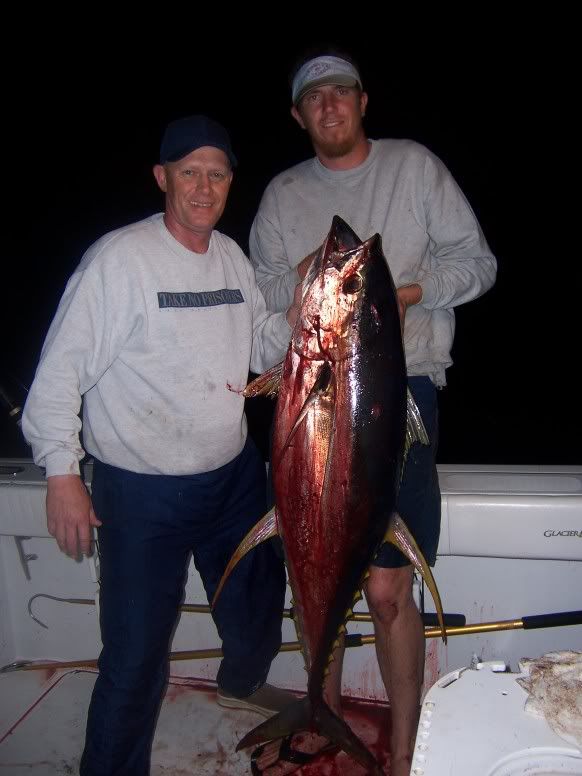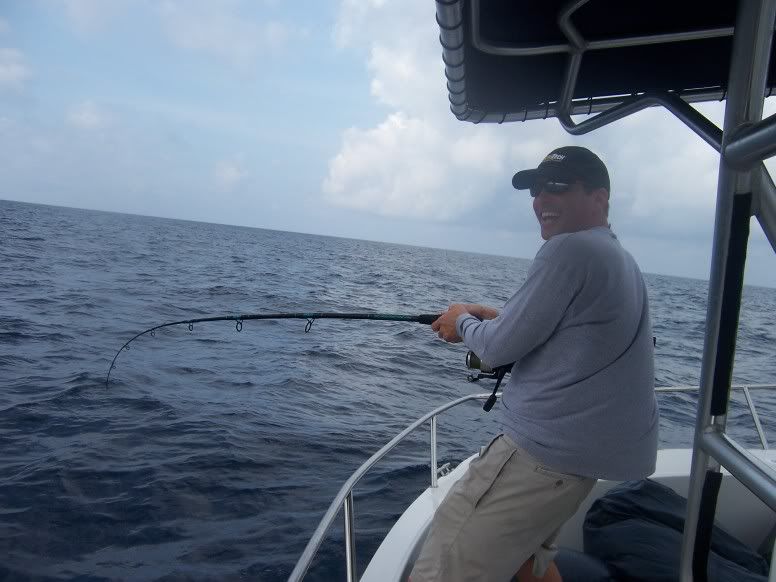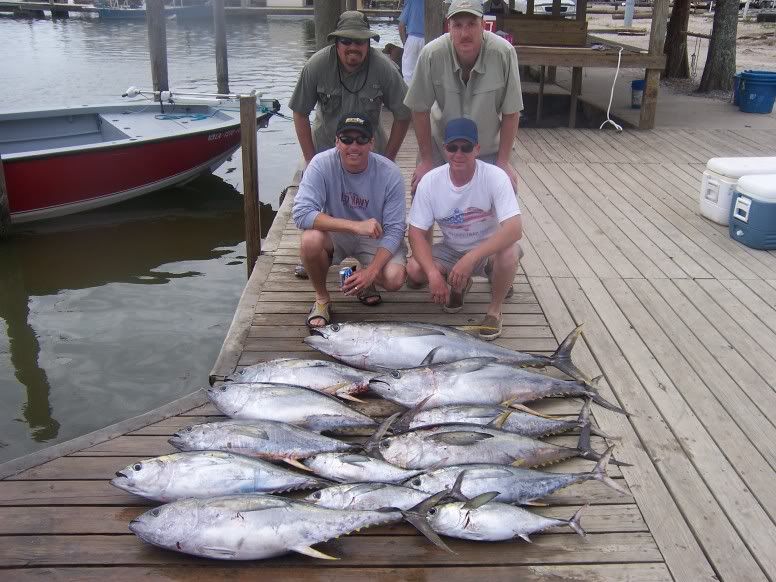 On the second overnighter on saturday night I had Tom Brumfield and crew from Florida onboard. We got a much more reasonable start time around 1 pm. I left to go catch some bait and in short time we had 50 tinkers in the boat. On the way out to the floaters we saw tons of life including a sperm whale tail slapping the water, jumping dolphins in our wake, and a free swimming manta ray. We also saw a few scattered pods of yellowfin busting. We got to our destination and the first two baits in the water were nailed and we missed em. The guys then hooked up a double on 40 pounders on topwater poppers. That was the end of the topwater bite though the bait bite kicked off. We were watching yellowfin hit our livies 10 feet behind the boat. Most of the fish hit our baits on the way out. We left here with 7 40 pounders in the boat to go south to another rig a mile away to look for some bigger fish. We stayed there about 30 minutes with no action and then went back to the first rig and put 6 more 40 pounders in the boat. We released the last three of the good fish in the hopes of filling their spot with 100 pound class fish which never showed up. We stayed around a little while for the night bite and then went and searched some other rigs to see what was happening and just caught blackfins and sharks. We ended the night with 10 yellowfin in the box, three other good ones released about a 12 baby yellowfin released.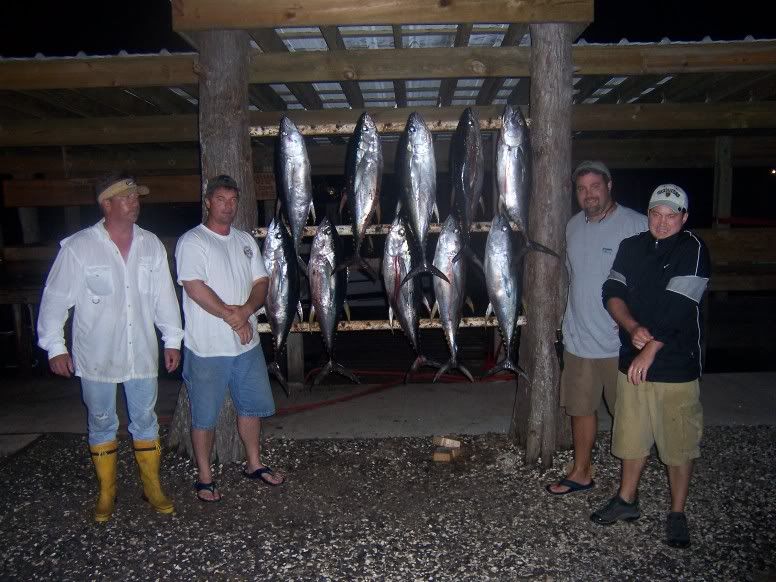 On monday I ran a day trip on the contender. We rolled out and headed south to a bait spot where we put 30 tinkers in the box. We then headed to the floater that has been hot for me and it was still hot. Pulled up and saw yellows jumping everywhere and starting slamming them on live bait. We put three in the box quickly and then hooked onto a stud. We fought him for about an hour and then the hook BROKE. Third time in my life I have broken a hook on a yellowfin. Also the third different type of hook so there is no pattern there. We put the baits back out and immediately hooked another solid fish. After about 30 minutes we put a 100 pounder in the box. Then the fishin shut off. We were watching yellows jump like crazy and even could see them swimming around under the boat but they wouldnt hit the livies. I decided to start chumming and that was the ticket. Using cut up blackfin we missed the first two fish but hooked the third and while we were fighting him I threw a storm minnow at some busting fish and hooked up. We landed that double. We started over with two new chunk baits and then hooked up two more yellowfin and landed them. We put out two more chunk baits and this time we watched the yellowfin eat which is always exciting. At this point we had 10 yellows and I asked the guys if they needed any more which they agreed they didnt so we headed to the house with 10 yellows again. Three days, three groups, thirty yellowfin.