Made a couple trips recently that were both productive and fun. We started out with the Robert Moore trip on saturday. Got off to a strong start as we tripled up trolling on yf around the first pass of a rig about 15 miles out. Got two of the three in the boat and they were both about 30 pounds. Made a bunch more passes with only a wahoo to show for it so we moved on. At the next rig we managed to pick one up on chum but that was it. I wasnt marking much there so I headed on out a little farther and hit paydirt. As we came around the rig with our pulling lures we hooked up on a nice yf and while fighting him we doubled up on poppers. Managed to get teh troll fish but lost both popper fish. It wasnt too long before we doubled up on poppers again and this time put them both in the box. Made another drift and picked up one on a popper before the topwater bite shut off. We had picked up a couple of blackies trolling so we went to work and cut them up and first drift we doubled on teh chunk with our two biggest fish. One was about 60 and the other 45 or so. We landed both those fish at 1230 and I asked the guys what else they wanted to do since we had a limit of yf in the box. They talked for a bit and said bring us in so we can get the drinking really started.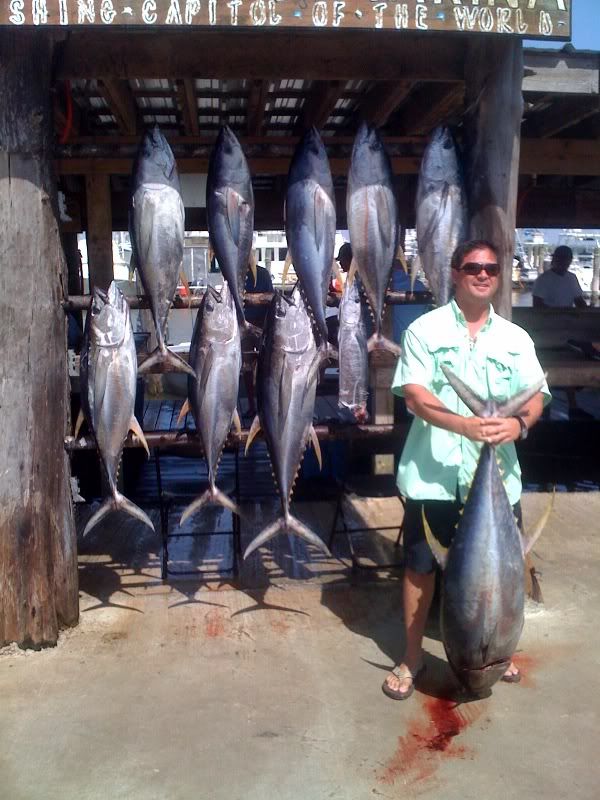 man what a fun trip!!! we had a blast.. looking forward to next year. tight lines.
On monday I had Carroll from Ga and his two friends from finland on the boat who had never been offshore. We woke up to 20 knots winds which is never a good start but we headed out to see what we could make of the day. First rig we made it to in about 100 feet of protected water was full of the endangered red snapper. I picked up one good grouper here and some white trout before we moved into some shallower water and hit paydirt. the next two rigs were both loaded with Lane Snapper and the guys had a blast throwing them in the box. We fished them for about 2 hours and put 19 in the cooler along with a mangrove snapper and by noon it had calmed down enough for me to make it offshore a little ways and at noon we headed out. It was too late to make it to the floaters so I trolled around on the shelf and missed a couple and caught one blackfin on a mirrorlure before we had to call it a day.