Took my wifes family offshore last sunday. For most of them it was their first time out really fishing. Other then my wife and my bro-in-law who decks for me sometimes. It ended up being a beautiful day. We got out to our spot and Lindsey(wife) hooks a nice dolphin blind casting that puts up a nice show before going into the fish box. She was blind casting a little later and I saw a boil on her popper and looked over to see a bill sticking up. Took a little while to sink in that she had hooked a sailfish on a popper. It jumped a number of times before it managed to throw the treble hooks, but it was awesome to see. After that the tuna started biting and we went 3-6 on yellows to about 50 pounds. The sharks started harrassing us a good bit though so we had to leave and go somewhere else. We managed to put one wahoo in the boat and a few chickens before we called it a day.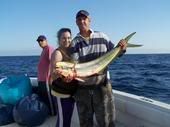 On monday and tuesday I had Joe and his friends on the boat. We headed back to our sunday spot and landed one yf on chum before the sharks came out. We made about a 40 minute run to get some live bait and came on back with some tinker mackeral and it was on. We struggled to get back and only had about 10. Five of those turned into yf, 3 were eaten by the birds and we missed two fish. Had to head in after that due to a lack of bait.

Tuesday we headed straight to the bait place and quickly loaded up on about 2 dozen baits. We then ran inshore and steadily picked away at the yf. We were using 60 pound leader both days with 6/0 circle hooks. The fish were not aggressively feeding then they ate and two of the tuna we caught werent even hooked in the mouth. One was hooked in the dorsal fin and teh other was just wrapped up in the leader with the hook hanging a foot below him. We ended up that day with 8 yf when we ran out of bait.