I ran a couple trips this weekend and forgot my camera at home. Of course thats when the tuna start biting really well and its flat calm and I could have got great pictures offshore.
On friday I had some guys in from tampa. Andy Ngyuen and his crew were here for some tuna. I struggled to get bait in the morning but we finally got some bar jacks which arent my favorite but theyre better then nothing. Pulled up to our first rig and went 1-2 on livies but we did catch plenty of bonitas on poppers. The bite kinda died off then and we went a little further out and got on a decent chum bite. Glad I saved those bonitos cause they came in handy as we added 4 more yf to the box for a total of 5. At that point we headed north looking for red snappers. They were a little finicky but once we got them going we put a limit of 12 in the boat in no time.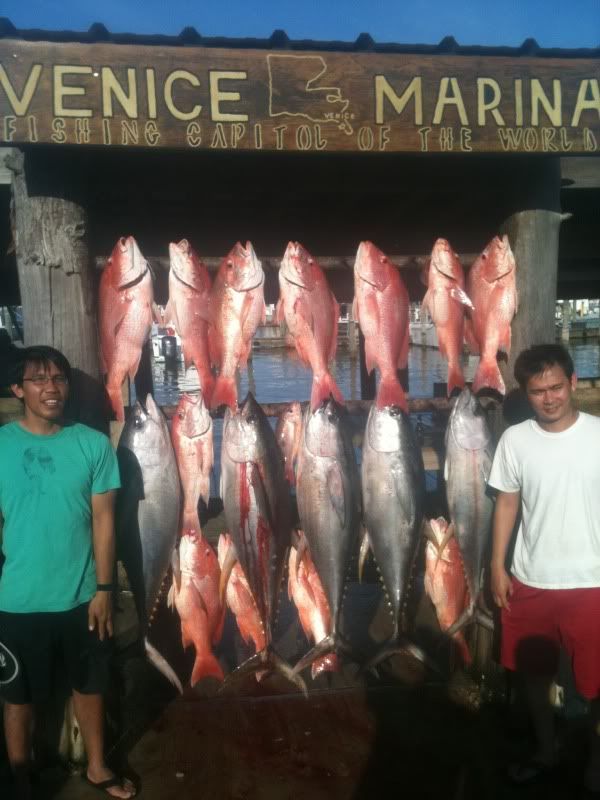 On saturday I had a local crew in and we headed south looking for tunas. I had my bonitos saved over from the previous day and we put them to good use. First drift was a tuna in the box. Then the rainbow runners got thick on us and we couldnt do anything. There were a few fish jumping and we did put a 96 pounder in the boat on a frenzy popper. We left that rig and went to another one we could see and found more tuna and less rainbow runners which makes for a good combo when your trying to chum. Added three more yf and a nice dolphin to the box before we headed off for snappers. Easily caught our limit of 12 red nibblers and headed to the house with our five yf.