I finished up the week on a strong note going 11-15 on swordfish in 4 trips. The last two trips were both good ones inlcuding the loss of a heartbreaker after a 2 and a half hour fight. I had Ryan, and his brother and father in law out on the boat on friday night. We started off by pulling the hooks on a small fish about 50 feet from the boat. Not a big deal cause I am sure we would have released him anyways.
Next hit was on the 300 foot line and it was a monster. I had it on the 30 unfortunatly and we fought this fish forever. We actually hooked and landed a 70 inch 190 pound class fish during the fight. Nick fought the good fight but after two and a half hours bad things happen to good fish.
I had a real good look at the fish and it made the 190 look small so I think this fish could have broken 300. After we lost this fish we kinda called it a night and headed in.
I regrouped for the next night and was ready to get a biggun except there werent any out there. We had our first hit around 815 and after a 45 minute fight we put a 56 inch sword in the boat. A little while later we had our 2nd hit and released a 47 incher. Both those hits came on teh 200 foot line with the blue/green electralume. We set up another drift and guess what there goes the 200 foot line again. We released the smallest sword I have ever seen. Hopefully he comes back in 3-4 years and we get him then.
We had a lull in the action till around 1 am then when the 150 tip line goes off and charged the boat. That fish was around 70 pounds or so but he threw the hooks on his third jump.
At 4 am I decided to reset my drift out into deeper water and as were letting the first bait out a sword started jumping with our bait in his mouth. We came tight on him but lost him while he was jumping as well.
We reset the lines and do to exhaustion we all passed out. At 5:06 in the morning the 200 foot line screamed off and woke us all up quick. A screaming tiagra 50 is a heck of an alarm clock. After about a 25 minute battle Trey palmisano put a 57 inch sword in the boat just before the sun started coming up. We went and tried for a morning tuna bite with no success so we headed to the dock. Here are some sword pics for yall to enjoy.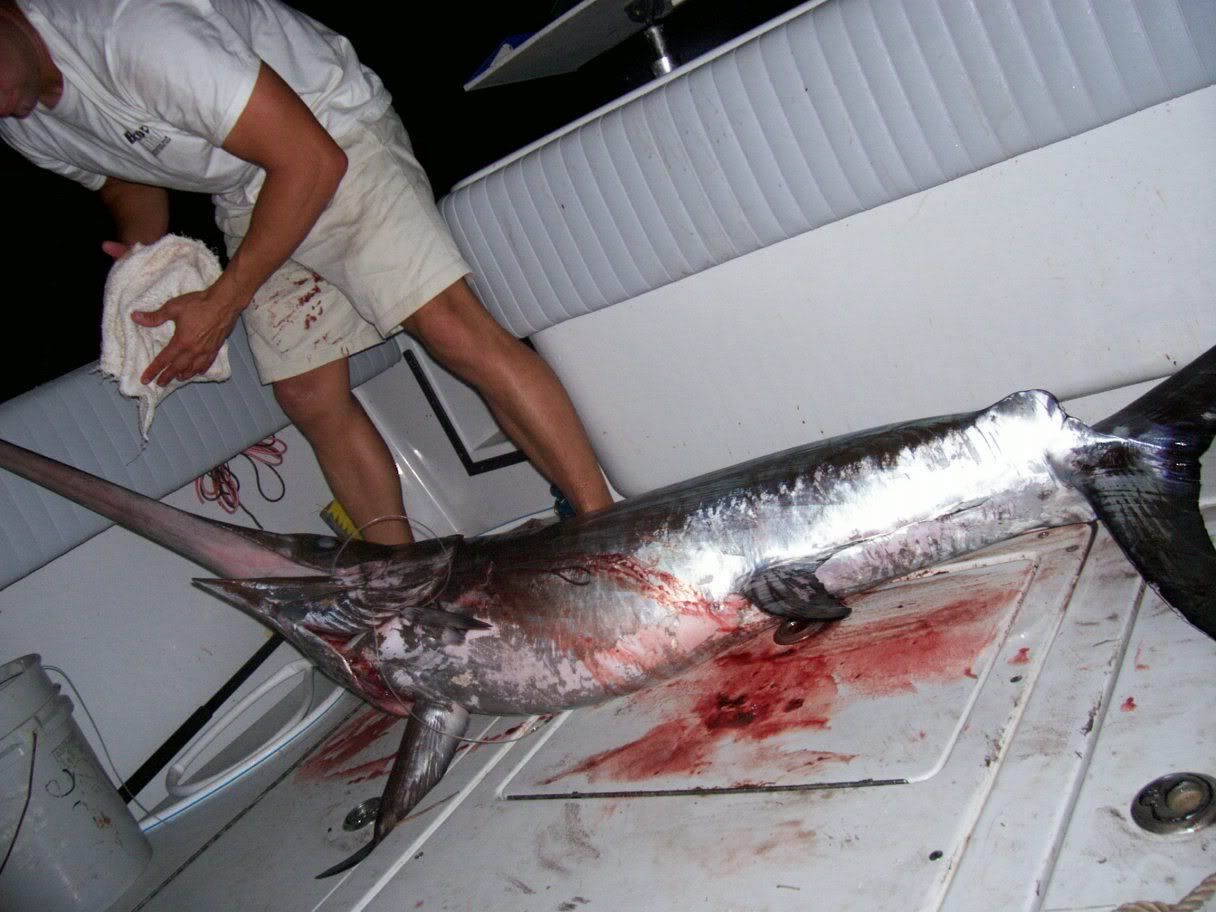 [IMG]http://img.photobucket.com/albums/v473/mangosnap/summer06173.jpg
[/IMG]