I have been struggling to make it out but a couple of days I did in between fronts. Tuna fishing has been kinda slow but I am sure thats only because I havent really made it out to look around much. The first day I made it out I went on a shrimpboat tour and struck out From there I rolled south to the floaters and caught plenty of barracudas but that was all that I saw. I got lucky and found a telephone pole on the way in that was loaded with wahoo and had a few dolphin. We got some of the wahoo on jigs and some on diving baits. The dolphin ate a chunk and an isllander. We got six hooters and two dolphin before it started getting late and we headed in.I didnt fish for a week before I got the opportunity to go out again. Stayed in close tuna fishing for a little while before half the boat got sick and we headed in to protected water. Luckily I had bought some shrimp with me cause I was afraid we were gonna have sea sickness issuesWe headed into shallow water from there and wacked lane snappers, bull croakers, pompano, and white trout plus released a ton of red snapper. the lanes were on fire though and we put 42 lane snapper in the fishbox to go with at least 40 white trouts and bull croakers for overall a ton of fish.The next day was the best weather I have seen since before halloween and I was able to let the contender stretch its legs out and run a little. pulled up to a floater about 50 miles out and caught bait easy enough. While were catching bait I notice some good yf blowing mullets out of the water so we set our baits up and missa couple then put the hook in a 100 pound class yf. The torsa 40 put him in the box in about 30 minutes. The bite slowed off here and I move a mile or so to another rig where we got two in the 50 pound class in the boat.
After that I rolled north to another floater where we got three yf on live bait between 20-30 pounds. It was getting late and I wanted to make a little shot at wahoo. We picked up three ajs on the troll before we headed to the dock.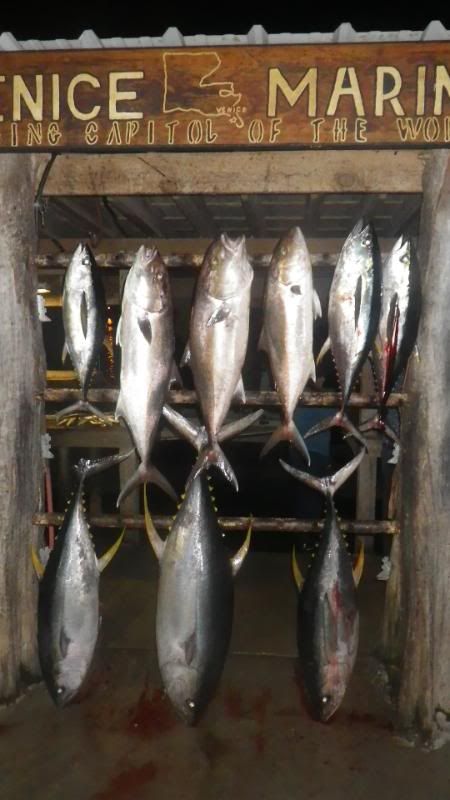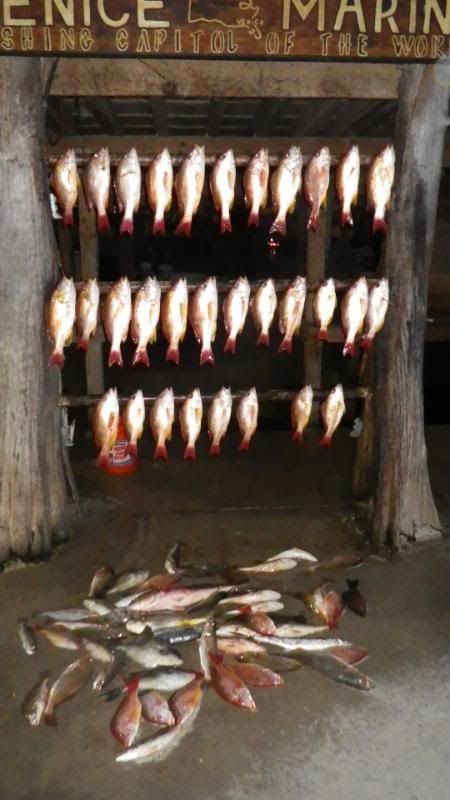 The guys had caught one redfish the day before and wanted to hang it with the rest of our catch.