Fished last thursday with Capt Mike as my deckhand. Rolled out with wahoo on the mind. Hit a couple rigs early with no luck but did mark some jumbo blackfin and dropped down anteater jigs and picked up 4 of them just to add some blood to the box. Hit a bunch more rigs all over with no marks or bites so went back to the spot we had marked the blacks and some better fish out and started chunking around noon. 2nd drift yielded a 91 pound yf so that was a good start. PIcked away at a mixture of yellows in blacks in 300 feet of dirty green water. Around 130 we had our best hit and it took a lot of line but we got it under control and pittman stuck the gaff in a 115 pound yf. We picked up one or two more yf on chum after that to end up with our box full with 6 yf and 10-12 Blacks.
We got a couple bites on 100 pound flouro but most were on 80 pound. Bait used was chunks of blacks.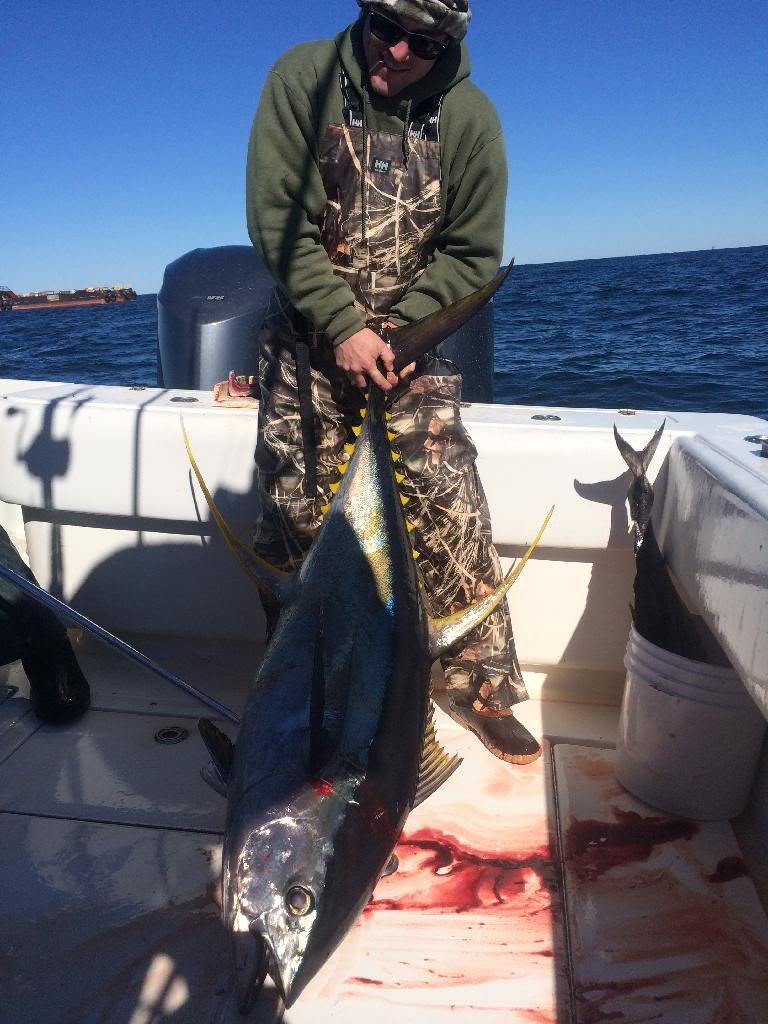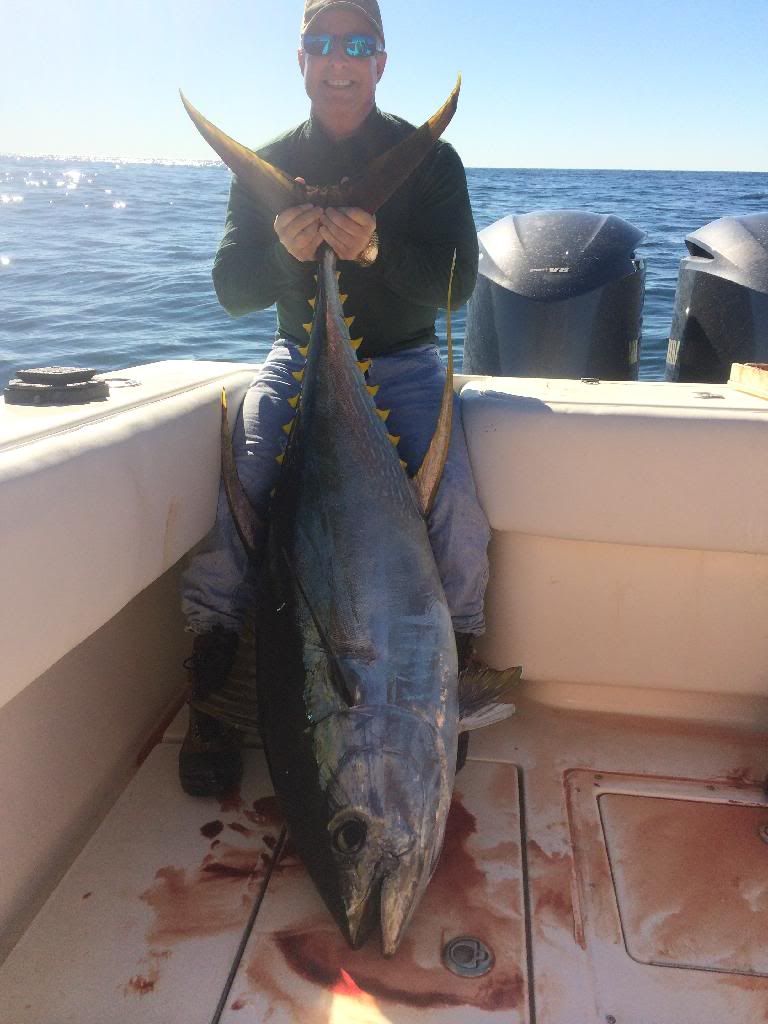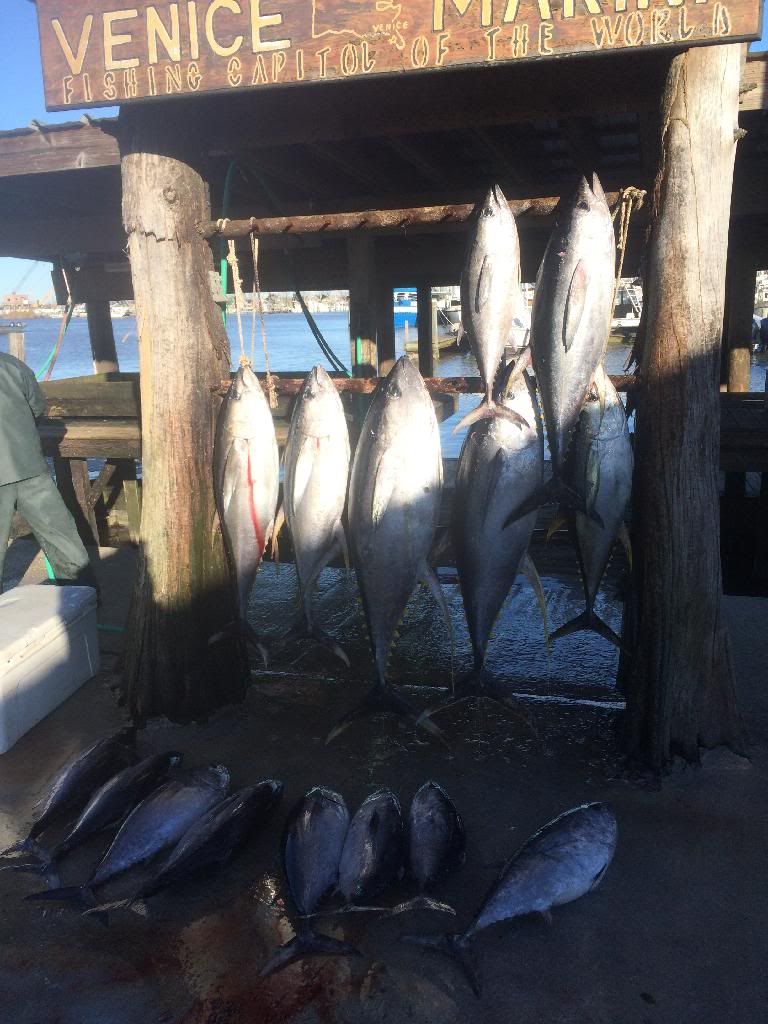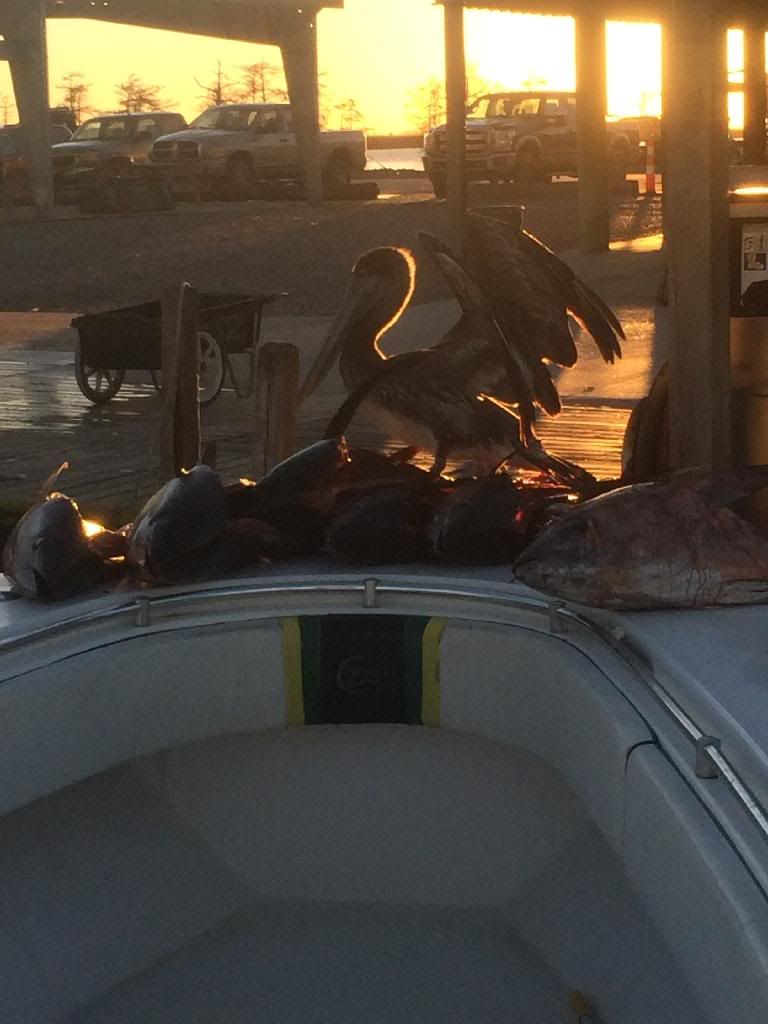 Friday was a blowout but we were back at it saturday except I michael was running a trip and parker was my deckhand. We started out with the same plan as the trip before and always everything changes. Pulled up to where the yf were at and they were gone pecans. Marked some blacks and we were jigging them up with ease but only got 3-4 chunk bites and they were all blacks. Didnt even mark any yf but the anteater jigs put about 10 blacks in the boat.
We ran off to a couple nearby rigs with not much to show for it before we moved nw to a rig I had not tried in a while. Trolled around it and marked some really nice fish a couple hundred yards off it. Did pick up one nice wahoo on the troll but that was it before we settled down to jig and chunk.
First drop of the jig was a nice 50 pound yf so thats a good sign. Only got some blacks after that but we were running chunk lines too. The first 8 or so bites were all sharks but bite number 9 was the one. Fish took off 400 yards on its first run and was still going but there must have been a bad spot in the braid way down in the spool and the main line popped. That was a bummer but we set up again and next bait in the water was a 60 pound yf. After that we picked through some fish and ended up with 5 yf in the box to about 60 pounds.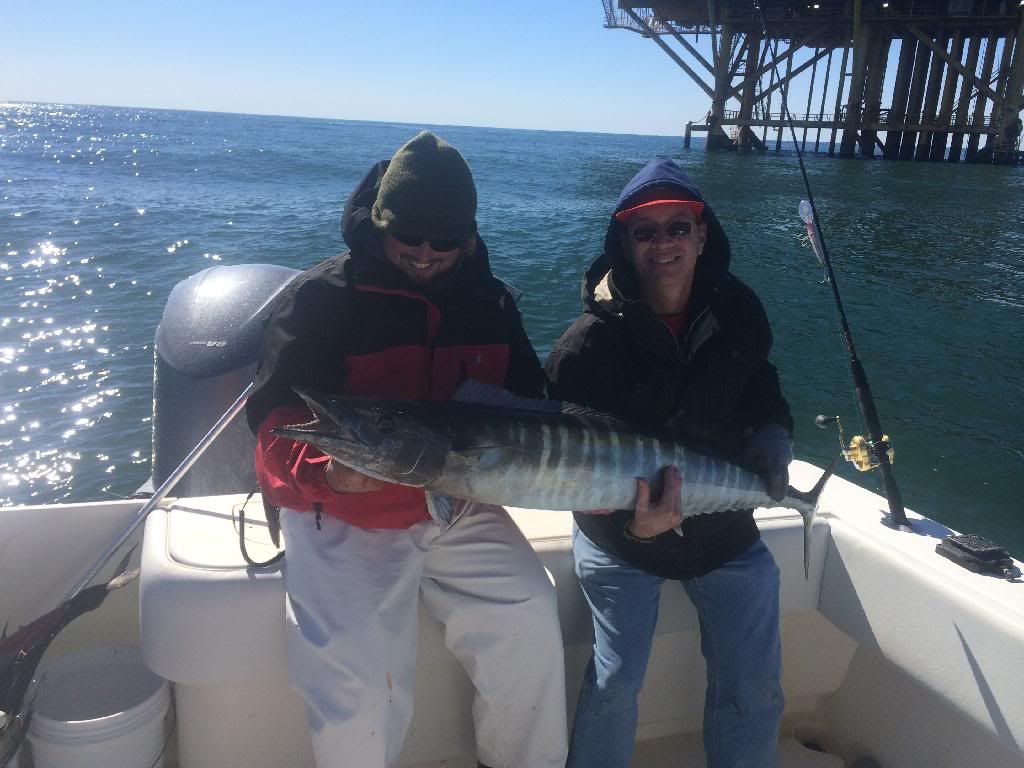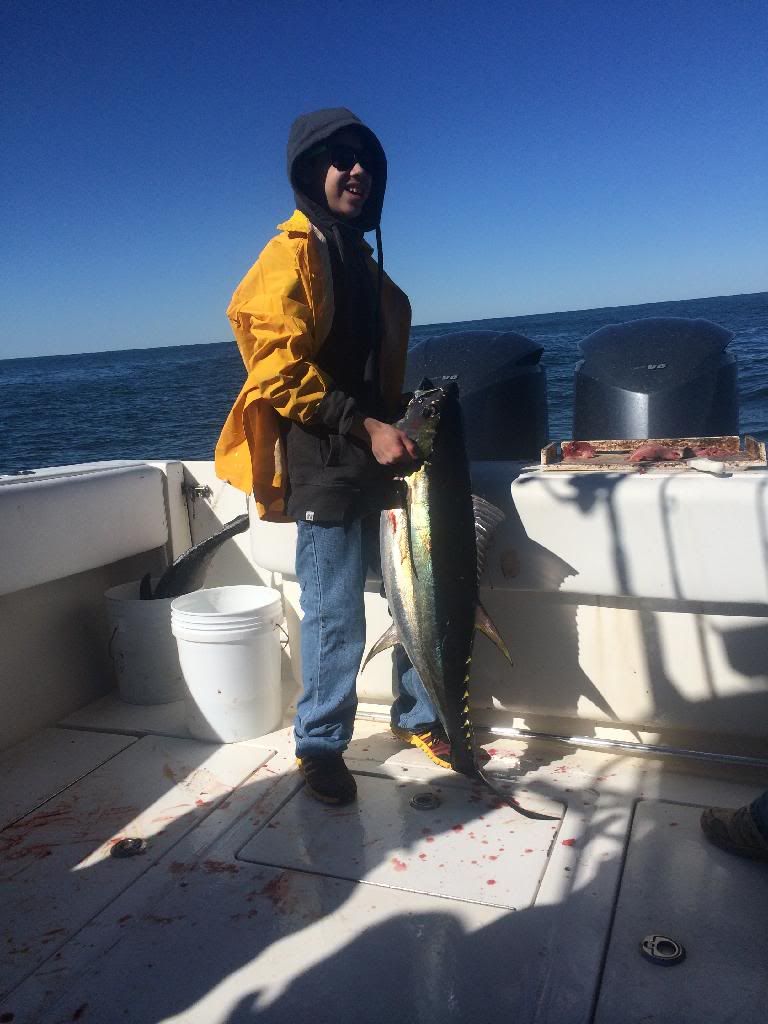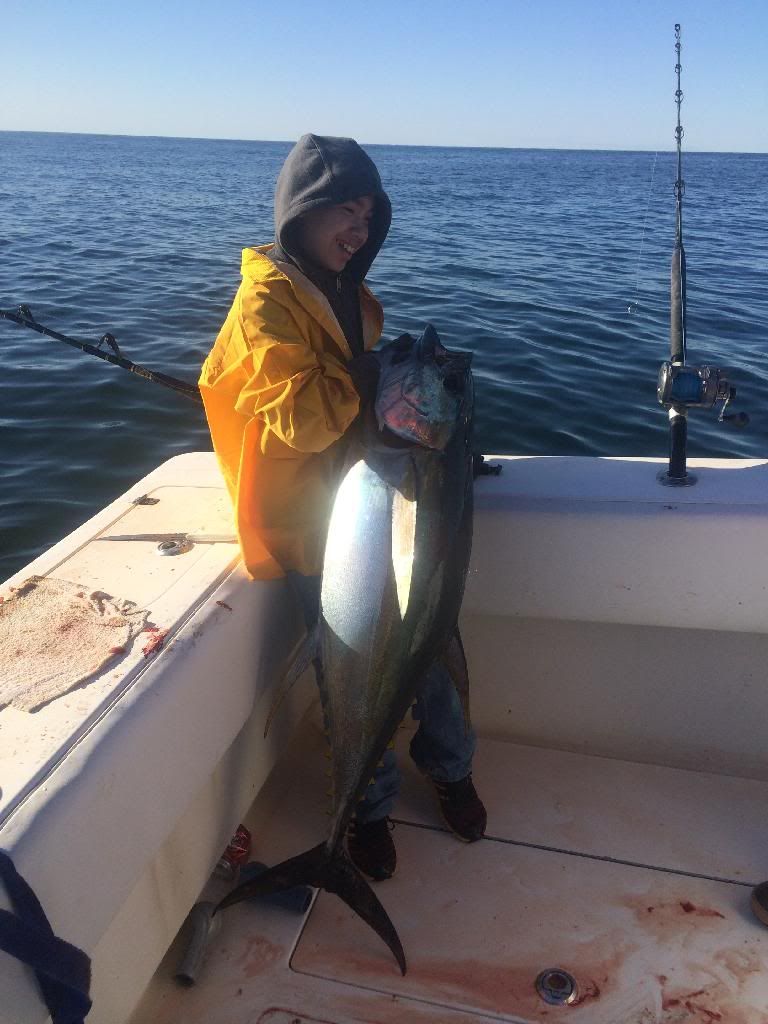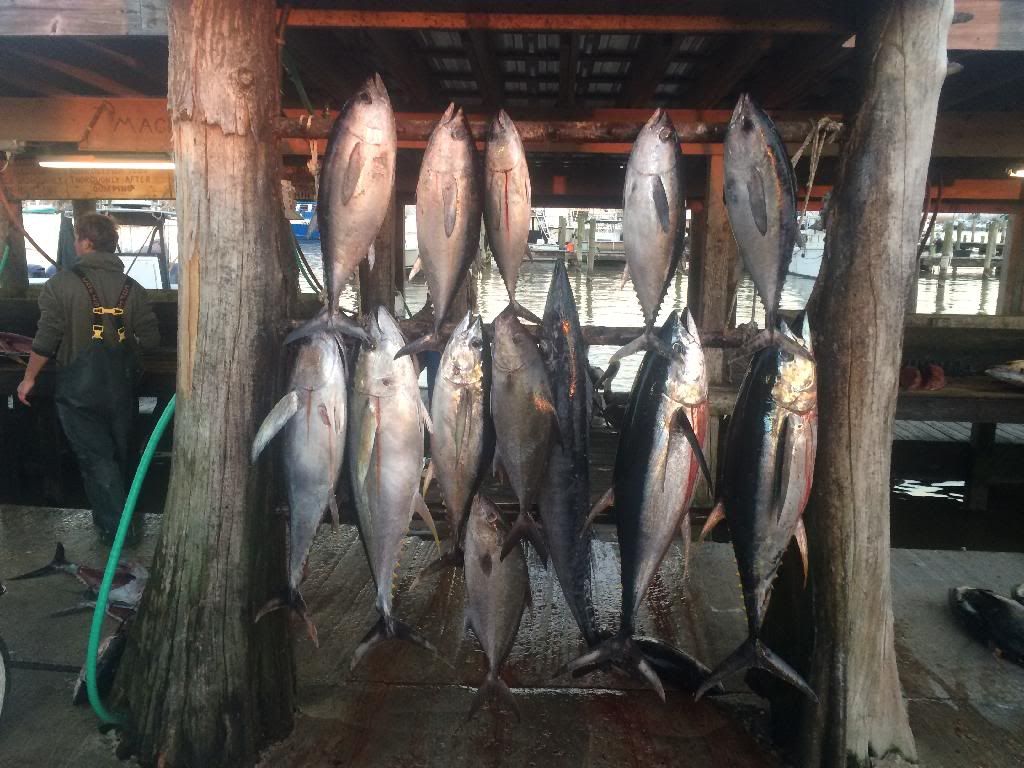 Sunday was a blowout but monday was flat which was the theme of the week one day 4-6 next day 1-2 In the winter the fish move around a lot so the of course where I caught them at saturday was dead on monday. Hit a couple other spots on the way to where I was thursday and went 3-5 on wahoo which was nice. Hit the rig where I had chunked up some tuna during the week and marked some decent fish again. The current was really screwed up but we got one 60 pound yf to bite and a few blacks before we had to leave as the guy and his son needed to be in for 2 pm or so. Left a little early out there and hit some rigs on the way in and picked up 3 more wahoo to bring back in with us.