After all the cold weather last week I was ready to get out of the house and back on the water.
Started off with Doug Johnson and his guys. Main goal was wahooters. Headed down river and struck out at the first two spots. Spot number three yielded a quadruple header on the first pass with one yf and three wahoo. After we got all 4 in the boat we had two more bites and got both of them and they were nice 60 pound plus fish.
Hit a bunch more rigs with no more bites on the troll before we settled in to jig. Stopped on a a cut off rig and picked up a couple ajs and some almacos before they quit biting. Moved over to a standing rig and the scamp bite was on fire. Every drop of the jig led to a missed fish, a scamp in the boat or a released red snapper pretty much. All of the fish were caught on anteater jigs in a variety of colors. We ended up with 17 scamps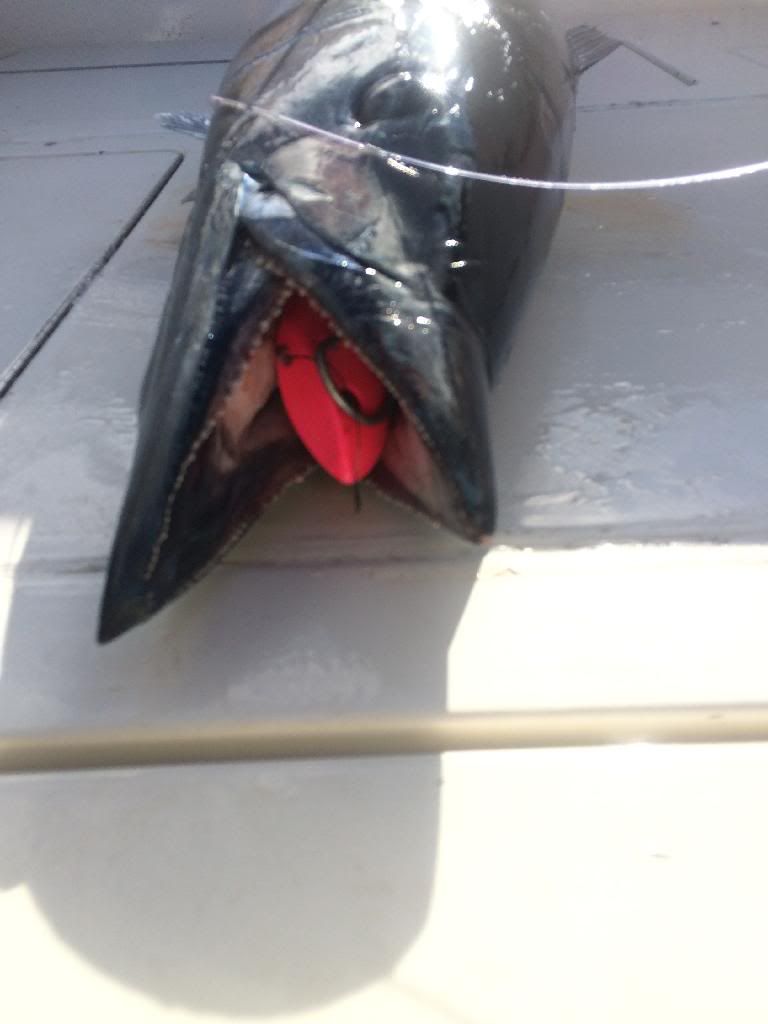 The next day I had john and his crew in from florida. All the spots I hit that morning were dead wasnt even really marking fish. We got our first bite around 11 am and it was a swing and a miss on a wahoo.
No more bites there so we got our chum knives ready and started chunking hard. Sharks and kings were pretty bad but there were definitly some fish around. After we had been there a while we hooked a big fish on a dead pogie. While we were fighting him around the boat our other two rods went off and we were tripled up on yf. One of the other two was completly eaten and the other was half eaten and we were still fighting our first fish.
Started chasing him around and it kicked everyone on the boats butt and after about an hour and 15 minutes I Stuck the gaff in a stud.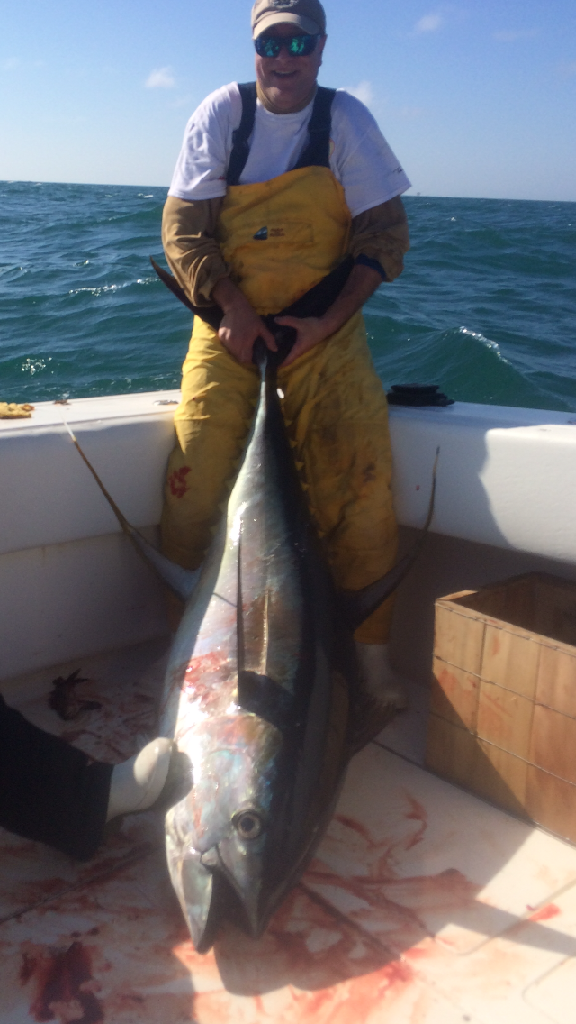 It ended up weighing 164 pounds and so far is my biggest fish of this year.
We made a few more drifts and tripled up again one time although we again had sharks issuses and only got one and a half fish in.
IT was getting late and the sharks were getting worse so we rolled to the dock.
On sunday and monday I had the same groups and the worst weather of the weekend. At least it was warm sunday cause we got soaked monday was cold and wet but still productive.
missed one wahoo in teh morning and one yf on a popper in a pogie ball.
Picked away at blackfin on rigs and in open water in the morning before headed to chunk. The water was cold and clean which is strange and it had the fish all messed up we only hooked three sharks and didnt even have a king bite in almost two hours of drifting. We headed back south to some warmer water and chunked up a few blacks and jigged up a few as well We hit the dock right after the toilet bowl of a super bowl began. I think we ended up keeping 14 blacks that day.
Monday we woke up and it was raining but it was a thin band so we headed south.
First rig was a double on ajs to get our limit but no wahoo bites. Headed west and marked good fish on almost every rig but they just werent biting. The surface current was ripping and we were drifting too fast to jig the tuna off of the rig so we bowed into the rig and dropped jigs just to get some bites. We ended up with a two man limit of scamps, some lesser ajs and a couple other assorted fish.
The highlight of my trip was the 11.7 pound bluefish we caught on a jig. In all my years of fishing venice I have never seen a bluefish even close to that size