Fishing continues to be strong this winter although everyday is a different day. The last 5 trips I did well every time although I never caught fish at the same spot two days in a row. On the first day I started off wahoo fishing and marked a ton of tuna hanging around. Made a few passes around the rigs and then got to chunking. It was slow at first and we were getting 1-2 blackfin bites a drift and then the blacks came up. I kept waiting for some yf to show up but they never did so we had to make due with blacks. We were catching them three at a time and they were rolling through our slick. We ended up keeping 26 jumbo blackfin and I probably let go at least 15 more while trying to conserve space for some yf but they never showed up.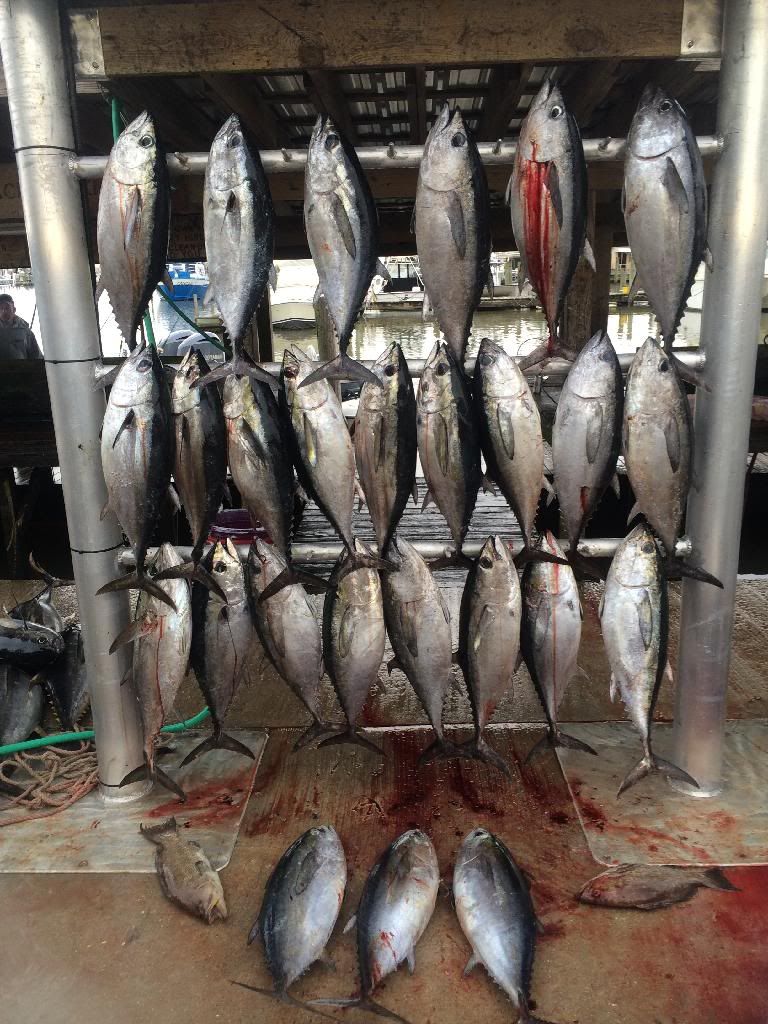 Day two we rolled straight to the east to chum a different rig for tuna. We picked up one 40 pounder off a rig before Capt Michael pittman got me on the radio and told me to come visit him. Went over where he was and the first 7 baits in the water were all 70-90 pound yf so I would call that a hot chunk bite. We lost that school out of our slick and had to pick away for a little while before we got them going again and ended up the day with 11 yf in the box.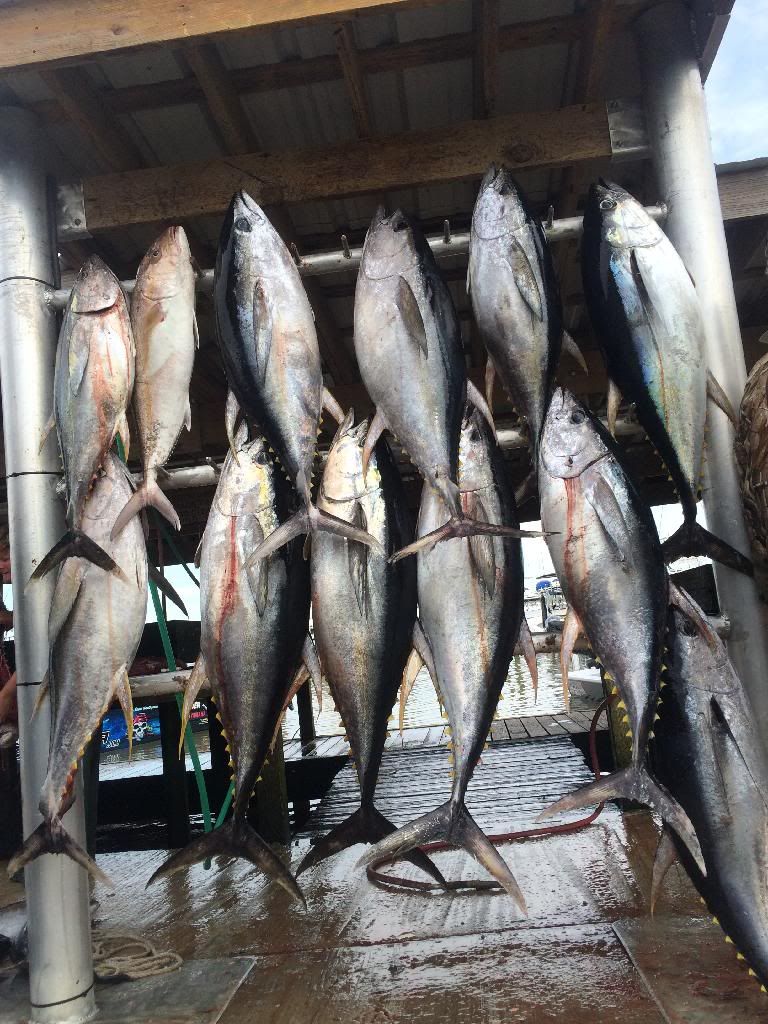 The next day I went back to where we had left off the day before and of course they werent cooperating. I lost a couple hooks to kings before I rolled back towards land to check out a couple shrimpers. They were slap full of bonito and blacks and a few yf. Stayed on them for a while and constantly caught blacks and bonitos and picked away at the yf. The weather blew up around 230 and we headed to the dock with 16 blackfin and 4 nice yellowfin.
Took off a couple of days due to weather and then was back out again. The wind was out of the east so I went off to the southwest and set up on the old lump and caught a few kings and bonito and that was it. Worked around the shelf rigs and overall was sucking it up. At 330 I had 3 blackfin in the boat. The fish were around as I was marking plenty but they just wouldnt cooperate for me. Around 330 some grass came through that was full of ballyhoo and the yf went off. In an hour and a half we had put 18 yf in the boat on frenzy poppers and we were headed to the house. The best thing about it is we were only 12 miles offshore and about an hour from the dock so I left from out there at 515 and was sitting on the dock at 615.
Left early the next day thinking they might be going off in the morning and of course they werent so we had to roll south. Got out a little farther and the sharks were kinda bad but we could pick through them to get to the tuna. Everything was caught chunking and we ended up our there with 9 yf to about 70 pounds. While I was out there capt Mike got a 200 pound mako in the boat as well as 7 yf.
I hit a few wahoo spots on the way in and ended up with 3 good hoos to add to the box.