Been fishing a little recently with pretty good results.
Almost everything has been coming on live hardtails. Seems like there is too much bait out there to really chum effectively although I have gotten a couple fish on chum. The fish are averaging 20-60 pounds now.
Poppers really havent been working well consistenly although a couple of days we had a few bites. The fish havent been busting too much unless you find them in open water on the whale sharks.
A couple of days stick out in my head. One was on a flat calm super slick day. We had a few tuna in the box when a marlin swims up to the boat. I pitched him a big hardtail and he lit up on it and we got him. Fought him for about 30 minutes before I billed him and he was very calm at the boat. Just kicking his tail along behind the boat. So I slid in the water with him for a picture. The guys got the picture for me and I kinda swished him around and let him loose and he kicked his tail and swam off.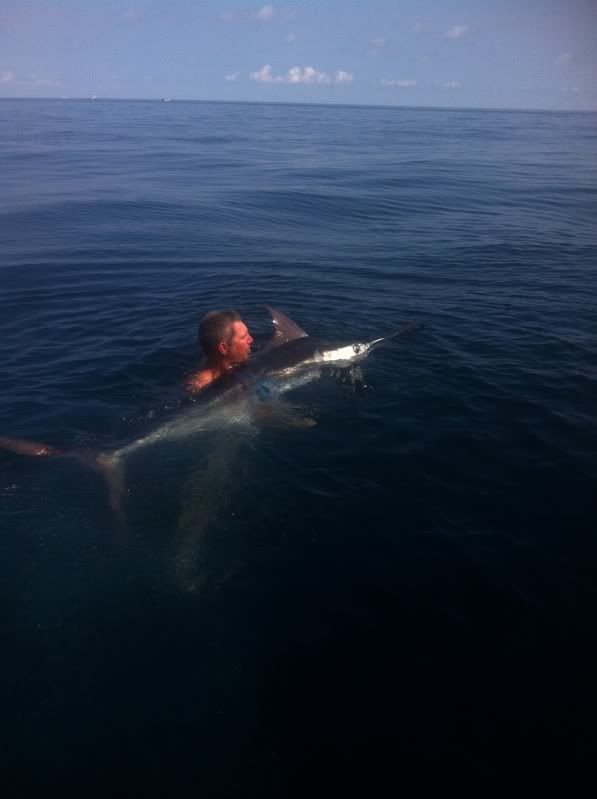 Another trip we started off at elf and pulled two hooks to begin with which is unusual but then we doubled up and put them both in the boat. The boat show showed up after that so I lowered the tabs and punched out offshore through a nasty headsea
Got out there a boat was leaving saying he was marking but nothing was going on. So I drove over and started live chumming and the rest of the day went like this double
triple double double single go home with 12 50 pound yellowfin in the box by 1 pm