---
The fishing continues to be solid off venice with Capt Mike and I rarely going over about 25 miles offshore for our tuna and sometimes fishing only 15 miles out. Live pogies continue to be our bait of choice if we can get them with our fallbacks being chum and jigs. I took Mike Bevelheimer and his crew out on tuesday. We found only 4 pogies at our first stop but I got a call on the radio and we nailed them a little farther down the beach. First stop I threw a handfull of pogies in with our hookbaits and it was game on as the yf crashed through our baits. Only got one hookup out of it though and the guys quickly put a 90 pounder in the box. We worked it over with the pogies to put 4 more yf in the box as well as one on a popper before the live bait bite shut off.After that we picked up one more on the troll, jig, and chunk to finish out our limit of 9 yf with 4 of them being quality fish. The guys wanted some ajs next so we moved in closer and jigged up our limit fairly easily.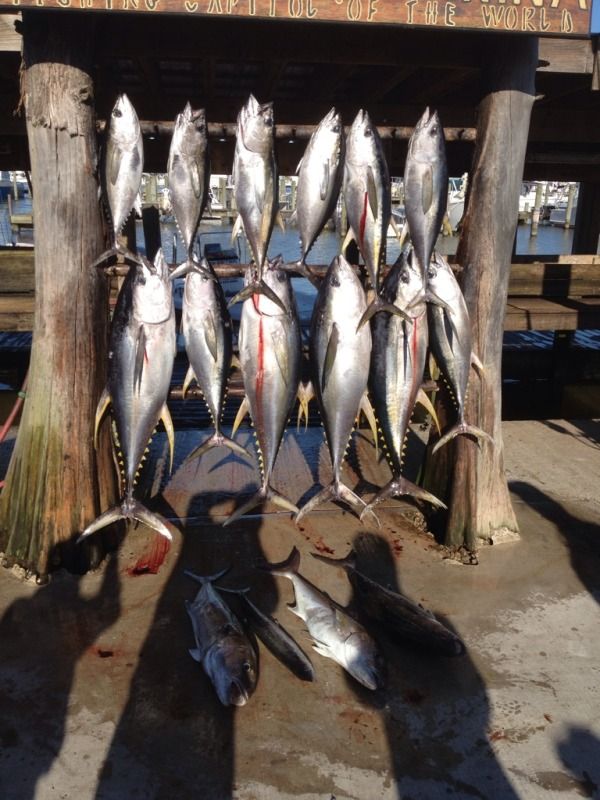 I had the same group the next day and we didnt even make it back out to our spot from the day before. The pogies were super easy to catch and I stopped out about 15 miles and within an hour we had six yf in the boat on live bait. After that the sharks showed up and we moved over a little and tripled up on tuna to finish off our limit. We moved over to a different spot to look for some grouper to go with our ajs. The current was ripping but the fish were still biting a little and we got a few scamps on live bait and a nice warsaw on a jig. The ajs came on jigs as well as a cobia. The jig of choice on my rods were anteater jigs but Im not sure what kind of jigs the customers had.
Capt Mike also had a trip on wednesday and he rolled out to a different spot with the pogies. His bite on live bait wasnt as good although they put two in the boat on pogies before they switched to chum and put 6 more in the boat to about 90-100 pounds.
I am headed back down now to fish the rest of the weekend.